At Plum, we always say we make insurance simple, inclusive, and accessible. One of our core values even states that we 'Innovate to Uncomplicate.'
Simply put, it means offering clarity at every step of your insurance and healthcare experience.
But what does this mean on the ground? What can our team do to make this a reality?
It means taking audacious bets that rethink the hairy problems of insurance from the bottom up.
Audacious bets like this next one.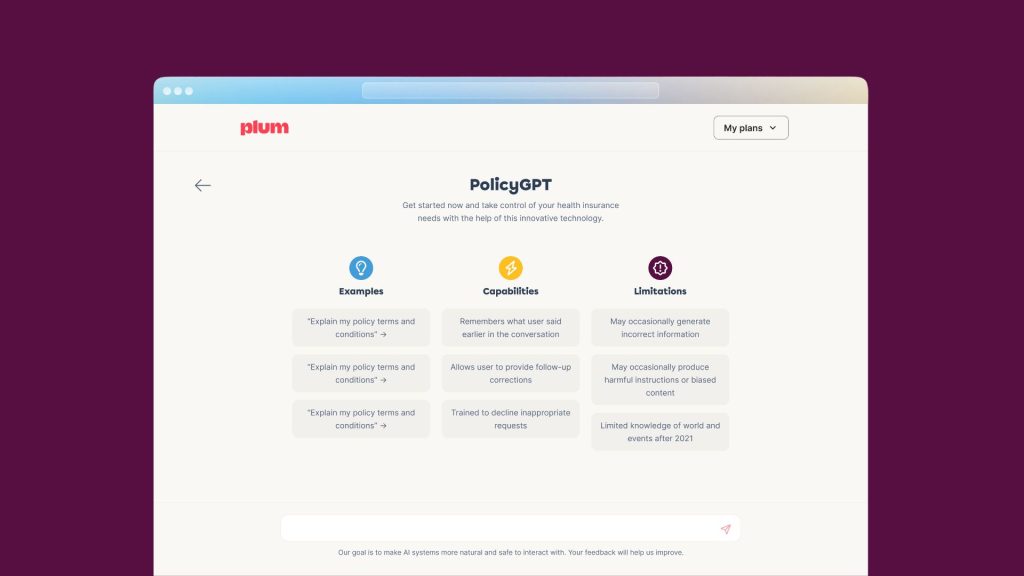 PolicyGPT: Towards a more intelligent and user-friendly experience
PolicyGPT is our attempt to vastly improve your user experience and awareness of your insurance policy using AI tools.
You won't have to scour your policy document to find answers. We'll make it easier for you to understand what's covered and what's not in your policy in the simple conversational format you're used to.
Insurance policies and their terms can be challenging to decipher. The AI and NLP technology used in PolicyGPT gives you a more informed and engaging experience.
Quick answers. Personalised.
Looking Ahead
This is just the tip of the iceberg for PolicyGPT.
In addition to providing information about insurance policies, PolicyGPT has the potential to offer features like locating the nearest network hospital, reaching support, and much more. We are exploring new ways to add tangible new value for you.
We aim to create a healthy combination of humans with empathy for your health and well-being with AI and automation tools to give you the best of both worlds.
A Small Disclaimer
As with any experimental product, PolicyGPT is still learning to walk. Remember that PolicyGPT is intended for getting quick answers, and you should expect at least a few errors and misses. However, we encourage you to try it out and provide feedback so we can continue to improve and enhance the user experience.
We are rolling this out in phases and all Plum customers will have access to PolicyGPT over the next few weeks.
The future is here
… and Plum isn't content watching the story unfold from the sidelines. We are actively writing the insurance script.
We are proud to launch PolicyGPT, and we believe that it has the potential to shake some of the old pillars of the insurance industry. At Plum, we are committed to innovation and will continue to push the boundaries of insurance with tech.
Plum imagines a future where humans and AI work together to postively impact our health and financial well-being.
Thank you for your support, and we look forward to your feedback.